How to monitor an OpenSearchServer instance
Using API calls
You can call a dedicated API to get monitoring information about your instance.
Simply make a GET request on http://<host>:<port>/services/rest/monitor/json?full=true.
This provides such useful data as free disk space, memory use, etc.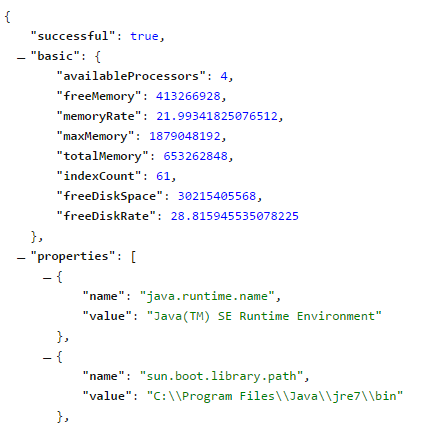 If you only want basic information do not send the ?full=true parameter.
If you want to get results in XML instead of JSON use http://<host>:<port>/services/rest/monitor/xml?full=true.
Using OpenSearchServer to regularly post monitoring data to an URL
This requires OpenSearchServer > 1.5.10
Using the Scheduler you can quickly set up a task that regularly posts monitoring information to a particular URL.
To do so:
Go to the Scheduler tab
Click "Create new scheduler job"

Give a name to the job
Check the Enabled checkbox
Configure a CRON expression, following these guidelines: http://www.quartz-scheduler.org/documentation/quartz-2.x/tutorials/crontrigger
Add one task: Monitoring upload

This task perfoms a POST request to the given URL.
HTTP authentication can be used with the parameters Login and Password.
The body of the request will be a text string with all monitoring information concatenated.
An additionnal detail called Instance ID can be added to the body of the request. This can be useful for example to identify the instance making the request.
Here is a truncated example of the body of a request:
instanceId=productionInstance&version=OpenSearchServer+v1.5.10-SNAPSHOT+-+build+98d156cdbb&availableProcessors=4&freeMemory=424985328&freeMemoryRate=22.61705313410078&maxMemory=1879048192&totalMemory=698875904&indexCount=61&freeDiskSpace=30216572928&freeDiskRate=28.81705882750464&dataDirectoryPath=E%3A%5CCopensearchserver%5Cdata&property_java_runtime_name=Java%28TM%29+SE+Runtime+Environment...

Here is an example of a job that will make a POST request every 10 minutes:
---
---